HARIO | Coffee Syphon "Technica" TCA-2
₱6,340.00 PHP
Sale

• Save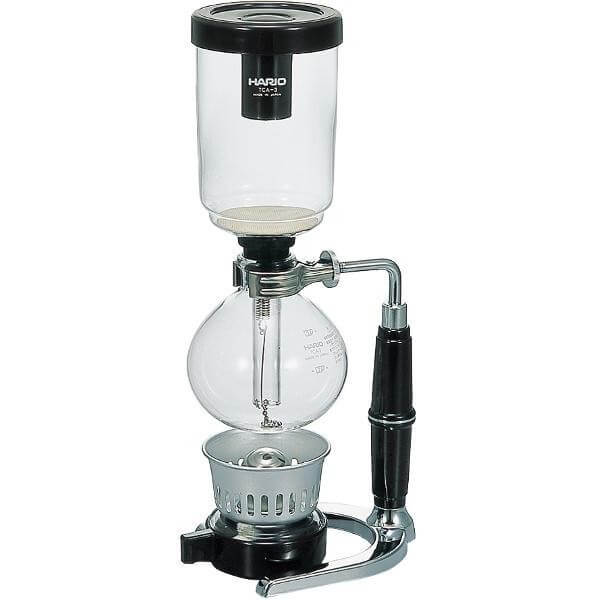 HARIO | Coffee Syphon "Technica" TCA-2
₱6,340.00 PHP
Sale

• Save
The Hario Syphon Technica 2 Cup is a coffee maker for anyone looking to take their brewing skills to the next level and turn their kitchen into a science lab.
Sometimes called 'vacuum pots', syphons produce a rich and crisp brew considered to be unmatched by many coffee professionals, due to the creation of a vacuum during the brewing process. When created by the included alcohol burner, this vacuum forces the water in the bottom chamber to rise to the top chamber, where the coffee grounds are located, to initiate the brewing.
Hario's famous heatproof borosilicate glass keeps the coffee at an ideal 91 to 95 degrees Celsius while brewing, producing a balanced and rich cup. The brewed coffee falls back into the bottom chamber when the burner is removed, separated from the coffee grounds by the included cloth filter. The top chamber can then be removed and placed on its stand.
This model of the Hario Syphon Technica can brew up to 240ml (2 Cups) at a time.
There's a reason the syphon brewer has acquired the respect of coffee professionals around the world: it makes a cup of coffee that is balanced, rich, and unlike coffee from any other brewer.
HARIO SYPHON TECHNICA 2 CUP FEATURES
Vacuum Brewing – Brews coffee in a vacuum, producing a rich, balanced, and crisp final cup unlike coffee from any other brewer.
2 Cup Capacity – Brews up to 240ml of coffee without taking too much space.
Hario Glass – Built with one of the world's most reputable glassware brands.
Alcohol Burner – Includes an alcohol burner for heating the water and coffee.
THIS PRODUCT INCLUDES
Hario Syphon Technica 2 Cup With Stand

Stainless Steel + Cloth Filter

Alcohol Burner

Coffee Scoop
THE SPECIFICS
Materials: Heatproof Borosilicate Glassware, Stainless Steel + Cloth Filter

Capacity: 2 Cups, 240ml
Share
Retail or Wholesale Inquires
FAQs
Free delivery on all orders over ₱1,000 (Philippines only)
Cagayan de Oro: Same day delivery
Metro Manila: 3-5 days
Luzon: 3-5 days
Visayas: 3-5 days
Mindanao: 3-5 days
PHONE
Café (CDO): +63 917 566 1743
Fulfillment: +63 917 705 7474
EMAIL
Wholesale: beans@hpropercoffeeroasters