HARIO | V60 Ceramic Pour Over Kit - Red 01 (1-2 Cups)
₱1,950.00 PHP
Sale

• Save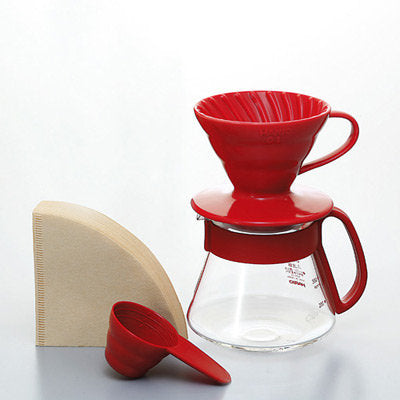 HARIO | V60 Ceramic Pour Over Kit - Red 01 (1-2 Cups)
₱1,950.00 PHP
Sale

• Save
V60 Colour Dripper & Pot Red
Hario V60 Ceramic Dripper Pot Set Red – All in One V60 set-up
Introducing the Hario V60 ceramic dripper pot set, everything you need to begin producing perfect pour-over coffee at home. Makes a perfect gift, nicely packaged and includes a V60 ceramic dripper (one cup size), a glass decanter, a coffee scoop and a pack of Hario V60 filter papers.
The V60 flexible coffee style allows the brewer to manually produce delicious coffee to the brewers preference. The process takes roughly about 3 minutes but if you brew quicker you will alternate the coffee finish. So, experiment and enjoy.
Hario V60 Ceramic Dripper Design
The V60 is designed to bring the best flavour from your chosen coffee beans. The dripper itself uses "whirlpool" shape style interior design made out of robust quality ceramic. This coffee set is everything a home brewer needs to get started in one box and is available with next day delivery to all our customers in UK mainland.
Hario V60 Ceramic Dripper Includes:
1 Red V60 Ceramic Cup
Decanter
Filter Papers
Red Scoop
Microwave-friendly
Borosilicate Glass
Made in Japan
Share
Retail or Wholesale Inquires
FAQs
Free delivery on all orders over ₱1,000 (Philippines only)
Cagayan de Oro: Same day delivery
Metro Manila: 3-5 days
Luzon: 3-5 days
Visayas: 3-5 days
Mindanao: 3-5 days
PHONE
Café (CDO): +63 917 566 1743
Fulfillment: +63 917 705 7474
EMAIL
Wholesale: beans@hpropercoffeeroasters