HARIO | V60 Ceramic Coffee Dripper White - Size 02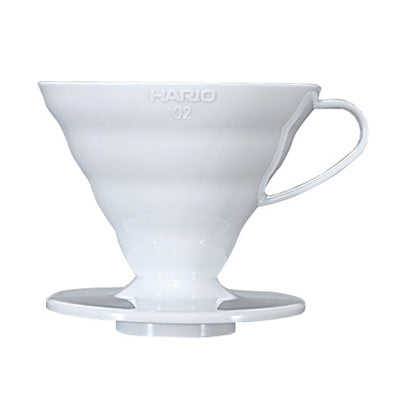 HARIO | V60 Ceramic Coffee Dripper White - Size 02
HARIO V60 COFFEE DRIPPER 02 CERAMIC WHITE VDC-02W
The V60 dripper also called cup dripper or dripper mug is probably the best coffee dripper out there. The king of glass Hario has been manufacturing glassware since the early 20th century and V60 set-up is one of their most popular brewing inventions. The bigger V60 02 size is preferred by cafes and baristas to brew 1 to 6 cups (depending on your cup size). The Hario V60 drippers retain the heat much better than a regular fan dripper. The Hario coffee dripper produces more extraction than the flannel filter and is delivered to you in a well-packaged box with a FREE measuring spoon.
CERAMIC V60 DRIPPER 02 DESIGN
The V60 name comes from its design. The cone is V-shaped and at 60 degrees angle. According to Hario's research, this is the optimal way to hand brew coffee. The V60 dripper has a single large hole, which allows you to determine the flavor of the ground coffee by adjusting the water flow. The Hario dripper has spiral ribs that maximize the expansion of the coffee by enabling air to escape while brewing.
V60 DRIPPER 02 WHITE CERAMIC INCLUDES :
1x V60 dripper in white (VDC-02W)
Direct Brewing into a server
Ceramic Body
FREE measuring spoon
Great heat retention
Increased Expansion of the ground coffee
Share
Retail or Wholesale Inquires
FAQs
Free delivery on all orders over ₱1,000 (Philippines only)
Cagayan de Oro: Same day delivery
Metro Manila: 3-5 days
Luzon: 3-5 days
Visayas: 3-5 days
Mindanao: 3-5 days
PHONE
Café (CDO): +63 917 566 1743
Fulfillment: +63 917 705 7474
EMAIL
Wholesale: beans@hpropercoffeeroasters