HARIO | V60 Glass Range Coffee Server (CLEAR) Size 01 360ML
₱1,350.00 PHP
Sale

• Save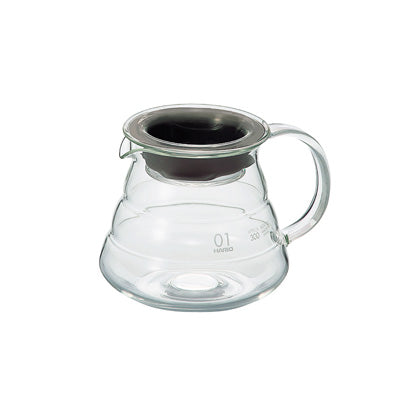 HARIO | V60 Glass Range Coffee Server (CLEAR) Size 01 360ML
₱1,350.00 PHP
Sale

• Save
HARIO V60 RANGE SERVER CLEAR 360M XGS-36TB
Hario – the king of glass, provides baristas with excellent quality glassware worldwide. The V60 Range Server Clear is all glass decanter and it works perfectly with 1 cup V60's. It is a great way to let your coffee cool slightly so you can enjoy it fully. If your coffee or tea has cooled down too much, you can easily reheat it using a microwave. The V60 Range Server is a classic jug, used in cafés and homes to manually brew coffee.
HARIO V60 RANGE SERVER CLEAR 01 XGS-36TB DESIGN
The Hario V60 Range Server is designed to fit any of the V60 drippers, making it ideal for serving delicious coffee. It is made out of heat-proof glass and the lid has a rubber insert to hold your tea coffee warm for longer. The V60 Range Server has an elegant design that is easy to clean, works great, and looks superb in any environment. It is a good addition to your V60 setup.
HARIO V60 RANGE SERVER CLEAR INCLUDES :
Heat-proof Glassware
Microwavable
Compatible with Hario V60 drippers
360m Capacity
Share
Retail or Wholesale Inquires
FAQs
Free delivery on all orders over ₱1,000 (Philippines only)
Cagayan de Oro: Same day delivery
Metro Manila: 3-5 days
Luzon: 3-5 days
Visayas: 3-5 days
Mindanao: 3-5 days
PHONE
Café (CDO): +63 917 566 1743
Fulfillment: +63 917 705 7474
EMAIL
Wholesale: beans@hpropercoffeeroasters