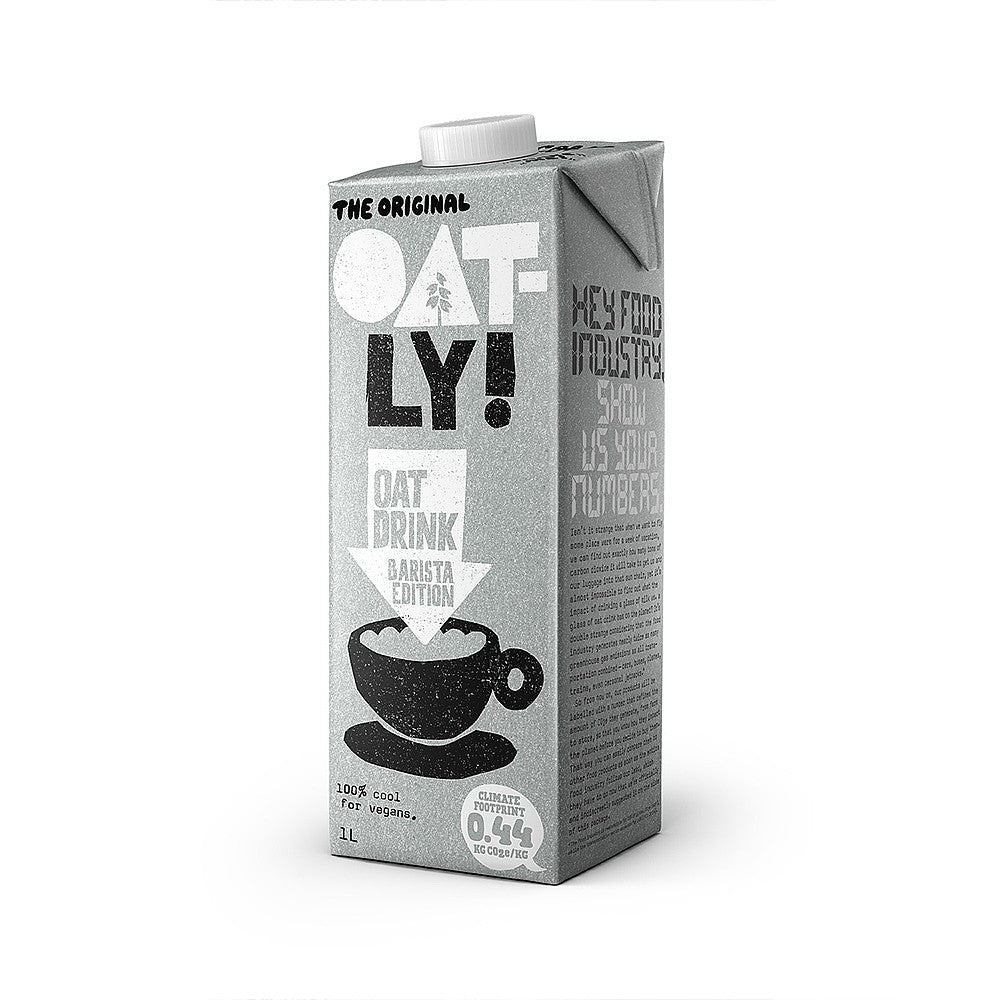 Oat Drink Barista Edition
So you are a barista? Perfect. This carton of Barista Edition oat drink is made from liquid oats, which means it isn't overly sweet or excessively heavy. What it is is fully foamable, putting you in total control over the density and performance of your foam so you can showcase your latte art skillz — sorry, we mean skills. Anyway, give it a try and see what you think. We are here for you from now on, whenever you are ready. So you are a non-barista? Also perfect. Just heat this Barista Edition Oat Drink in a container while giving it a whirl until it foams up nicely and then pour yourself a latte without milk. And if you don't feel like a latte, you will be happy to know that this product tastes just as amazing if you drink it straight or pour it on your granola or put it to work with your cooking skills. But let's keep that between us non-baristas, okay?
Ingredients
Oat base (water, oats 10 %), rapeseed oil, acidity regulator (dipotassium phosphate), calcium carbonate, calcium phosphates, iodized salt, vitamins (D2, riboflavin, B12)
Nutrition information per 100 ml:
Energy 247 kJ/59 kcal
Fat 3.0 g
of which saturated 0.3 g
Carbohydrates 6.6 g
of which sugars 4.0 g*
Fiber 0.8 g
Protein 1.0 g
Salt 0.10 g
Vitamin D 1.5 μg (30%**)
Riboflavin 0.21 mg (15%**)
Vitamin B12 0,38 μg (15%**)
Calcium 120 mg (15%**)
* Natural sugars from oats.
** Of the Daily Reference Intake.
Share
Retail or Wholesale Inquires
FAQs
Free delivery on all orders over ₱1,000 (Philippines only)
Cagayan de Oro: Same day delivery
Metro Manila: 3-5 days
Luzon: 3-5 days
Visayas: 3-5 days
Mindanao: 3-5 days
PHONE
Café (CDO): +63 917 566 1743
Fulfillment: +63 917 705 7474
EMAIL
Wholesale: beans@hpropercoffeeroasters