Panama Elida Estate Catuai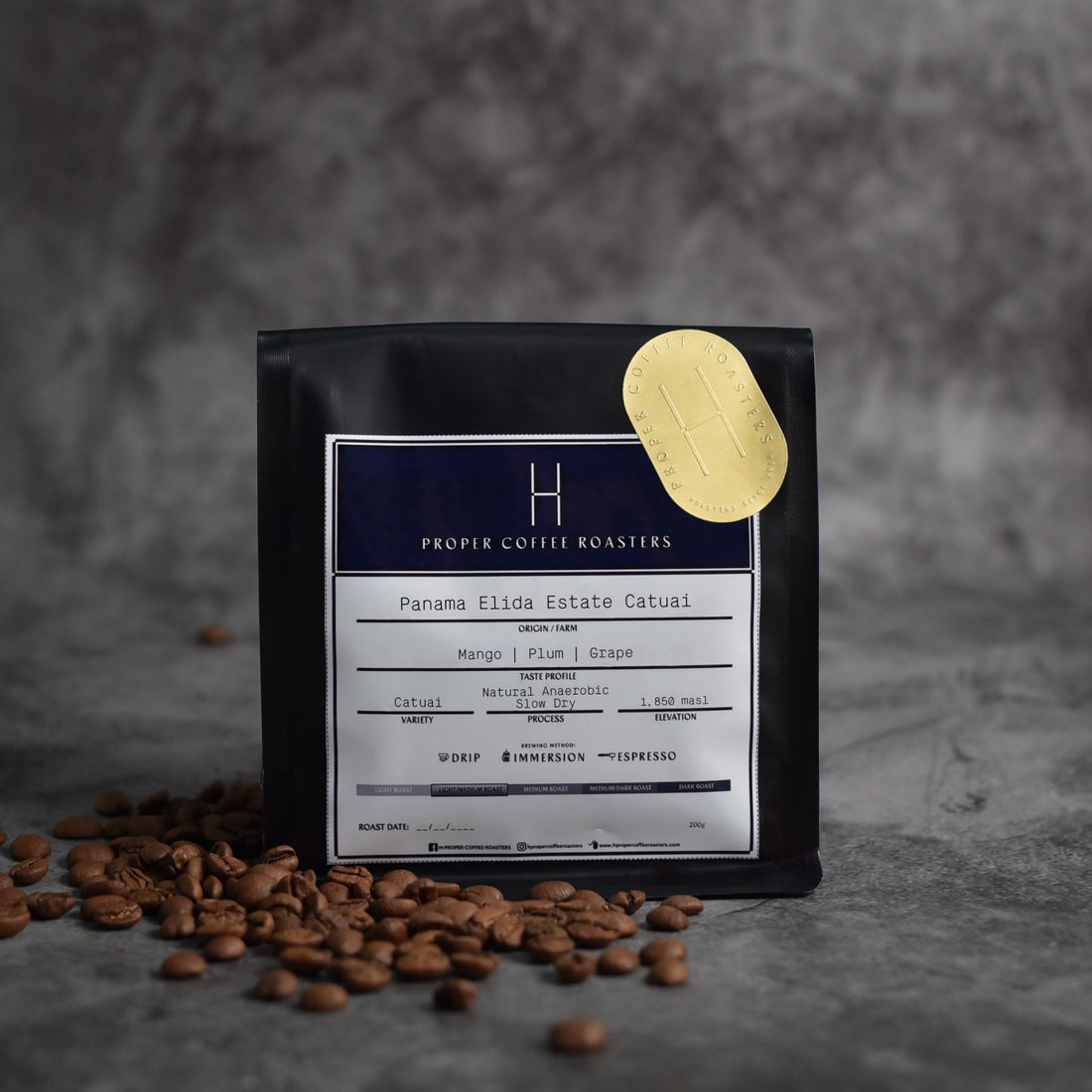 Panama Elida Estate Catuai
Coffee Information
ORIGIN: Panama
FARM: Elida Estate 
VARIETY: Catuai
ALTITUDE: 1,850 MASL
PROCESS: Natural Anaerobic Slow Dry
TASTING NOTES: Mango, Plum, Grape
ROAST: Filter
Flavor Maturation / Peak Flavors
Our roasted coffee beans can take around 3 - 4 weeks of rest for it to degas enough and the flavors to develop. We strongly recommend brewing the coffee during this period to get the best experience of our coffees. Drink within 3 months if you must, but by then we might have released more coffee varieties. So drink fast!

After the roasting process, the coffee beans will possess a high concentration of carbon dioxide gasses within themselves as a byproduct of the aforementioned process. These gasses hinder the overall quality of the coffee, as they will aggressively create multiple air pockets during your brew. These air pockets are responsible for creating an uneven extraction; acting as a disruptive barrier between the contact of water and coffee grounds. Furthermore, carbon dioxide when fused with water will give you a sour taste, similar to the carbon dioxide you taste in colas.

The coffee will release some of these gasses naturally, as a process we call degassing. While degassing, the coffee's flavors will also develop. This happens every day until it reaches its peak. The peak of our coffees varies, but we believe the best of flavors are pronounced when it reaches a month old and it will still be great even after 3 months.
Share
Retail or Wholesale Inquires
FAQs
Free delivery on all orders over ₱1,000 (Philippines only)
Cagayan de Oro: Same day delivery
Metro Manila: 3-5 days
Luzon: 3-5 days
Visayas: 3-5 days
Mindanao: 3-5 days
PHONE
Café (CDO): +63 917 566 1743
Fulfillment: +63 917 705 7474
EMAIL
Wholesale: beans@hpropercoffeeroasters