Taste of Harvest - Ethiopia Mesina (#3)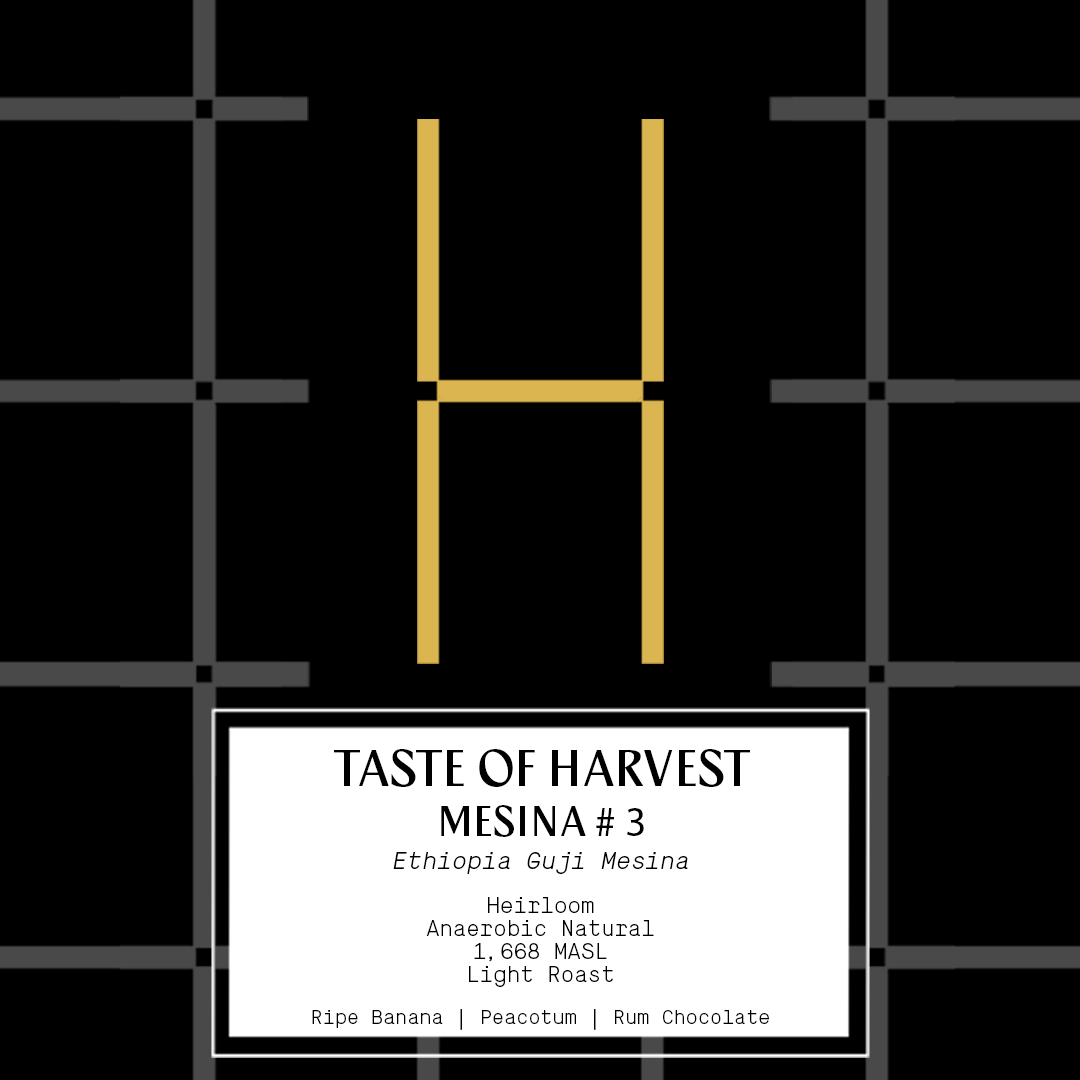 Taste of Harvest - Ethiopia Mesina (#3)
Ripe Banana, Peacotum, Rum Chocolate
Africa Taste of Harvest 2021 - 3rd Place
COFFEE INFORMATION:
ORIGIN: Ethiopia

REGION: Guji Mesina
VARIETY: Heirloom
ALTITUDE: 1,668 MASL
PROCESS: Anaerobic Fermentation
TASTING NOTES: Ripe Banana, Peacotum, Rum Chocolate
ROAST LEVEL: Light Roast
METHOD: Espresso, Filter, Drip, Immersion
Share
The African Fine Coffee Association (AFCA) calls on all African coffee producers, cooperatives, millers, and exporters to participate in the Taste of Harvest competition by submitting their finest coffee samples. The competition involves a panel of qualified and experienced local and international judges who evaluate the coffee using established methods and protocols from the Coffee Quality Institute (CQI) and Specialty Coffee Association (SCA). This highly respected competition aims to select the best coffee from each origin across Africa each year.
-
Explore the exclusive world of award-winning coffees and delight in the extraordinary flavors that have captivated the discerning palates of Taste of Harvest judges. Immerse yourself in the rich heritage of African coffee, savoring the culmination of skill, tradition, and an unwavering dedication to uncompromising quality.
Retail or Wholesale Inquires
FAQs
Free delivery on all orders over ₱1,000 (Philippines only)
Cagayan de Oro: Same day delivery
Metro Manila: 3-5 days
Luzon: 3-5 days
Visayas: 3-5 days
Mindanao: 3-5 days
PHONE
Café (CDO): +63 917 566 1743
Fulfillment: +63 917 705 7474
EMAIL
Wholesale: beans@hpropercoffeeroasters